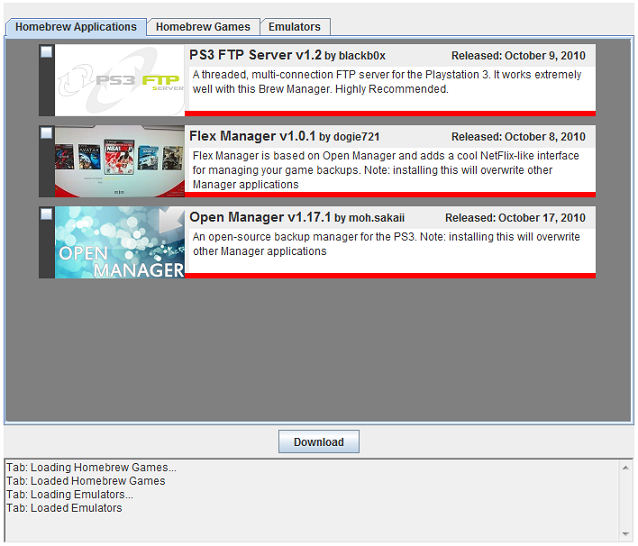 PS3 Homebrew Manager is an application to drop the Latest Homebrew Apps / Games / Emulators / Utilities on your PS3.
Release Notes:
- This is a barebones version of what the goal of PS3 Homebrew Manager is.
- Check back often for releases.
- We are definitely missing many homebrew apps. Please tell us which ones to add on the forum.
To Do List:
- Make UI nicer. Especially on OSX.
- Ability to Patch already installed items vs full reinstall.
- Handle applications that conflict (aka all the different managers).
- Build web interface for developers to update their own pkgs, information, website etc...
(Will build this if Developers tell me they want it. LMK via Forum / PM)
- Ability to transfer local supplementary files (Like for SNES9x).
- Lots more! I don't want to give away all my surprises.
Check it out here
[img]https://brewology.com/images/mm/monkeymaximus.jpg[/img]
http://img522.imageshack.us/img522/8907/monkeymaximus2ph.jpg
---