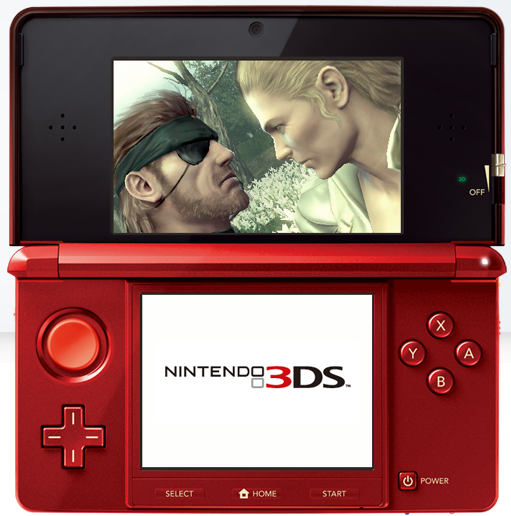 Nintendo has decided to drop the price of the Nintendo 3DS by an astounding $80 because of lukewarm response from fans. Just read this article:
Great Price, Great Games
An exciting message for people who own a Nintendo 3DS and those who want to:
Nintendo of America today announced plans to drop the suggested retail price of its portable Nintendo 3DS™ system to $169.99 in the United States. The new price takes effect Aug. 12 and makes an outstanding value even better.
Building on the popularity of The Legend of Zelda™: Ocarina of Time™ 3D, which launched June 19, the upcoming game calendar for Nintendo 3DS is a Who's Who of iconic video game franchises. Star Fox 64™ 3D arrives on Sept. 9, followed by Super Mario™ 3D Land in November, Mario Kart™ 7 in December and Kid Icarus™: Uprising during the holiday season.
And don't forget that Nintendo 3DS has a bunch of fun features, including Nintendo Video™, the Nintendo eShop and access to Netflix, that make it a must-have video game system.
But what about the 830,000 of you who already own a Nintendo 3DS? You're some of Nintendo's most loyal customers, and we're rewarding you for getting in on the action early with not one, not 10, but 20 free downloadable games from the Nintendo eShop! Here's how it works:
The 20 free games are available to anyone who owns a Nintendo 3DS system and uses a wireless broadband Internet signal to connect to the Nintendo eShop at least once before 11:59 p.m. Eastern time on Aug. 11. These users will automatically be registered in the Nintendo 3DS Ambassador program. The program contains two elements:
1. Starting Sept. 1, Nintendo 3DS Ambassadors will be able to download 10 NES™ Virtual Console™ games at no charge and before they are available in the Nintendo eShop to the general public. These games, including Super Mario Bros.™, Donkey Kong Jr.™, Balloon Fight™, Ice Climber™ and The Legend of Zelda™, are slated to become paid downloadable games, but Ambassadors get them early for free. Once the paid versions of the games are posted to the Nintendo eShop later in the year, the updated versions will be available to Ambassadors for download at no cost.
2. By the end of 2011, Nintendo will provide Ambassadors with 10 Game Boy Advance Virtual Console games. These include games like Yoshi's Island™: Super Mario™ Advance 3, Mario Kart™: Super Circuit, Metroid™ Fusion, WarioWare™, Inc.: Mega Microgame$ and Mario vs. Donkey Kong™. These games will be available exclusively to Ambassadors, and Nintendo currently has no plans to make these 10 games available to the general public on the Nintendo 3DS in the future.
More details about this program will be announced in the future.
It's a great time to own a Nintendo 3DS!
–Your Friends at Nintendo of America
Source: Nintendo
____________
Even though the price will be dropping on August 12th, there is incentive to purchase a 3DS now, (It is being sold at discount at Amazon) so you can get in on the Ambassador program's 20 free select NES/GBA games. Be sure to act swiftly though, as you have until 11.59 PM EST on August 11th to register with the program.