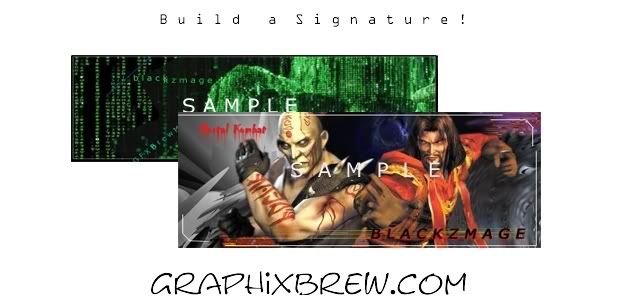 Hello all, Reigo80 and I am proud to say we finally got the results in from our 1st annual Graphixbrew signature contest!
As we promised, the winners will recieve prizes for their effort and time staring at their computer monitors and producing pixel perfect images!
The winners are:
.Yunoko – Our grand prize winner! We can best decribe his signature to have a "unique design". He will recive a custom title, and a custom userbar!
TK421 – Our second prize winner! He has won second place by using hi won "Outstanding" techniques. He will recive a custom userbar.
And our last, but not least 3rd place winner will either choose to have his name here or a custom userbar.
Kudos to our Top 3!
But wait, theres more! Since it is around christmas time, and i want to show them that trying can accomplish, I have decided to award them a Participation Avatar.
Feliz Navidad!